HOW TO DO AN ADVANCED SEARCH.
Mon Jul 08, 2013 3:56 pm by Admin
For the benefit of 944Hybrids users there are two search functions available for you to use.
The purpose of this sticky is to explain the "Advanced Search" function because it is much more powerful and is the best choice when researching information.
When you log on to the site a list of options is shown in a line at the top of the page. One option is labelled "Search", use this option (NOT the search box lower down on the right).
After you click on the upper search option, a drop down box appears. At the bottom of this box is a radio button marked "Advanced …
Comments: 0
June 2021
| Mon | Tue | Wed | Thu | Fri | Sat | Sun |
| --- | --- | --- | --- | --- | --- | --- |
| | 1 | 2 | 3 | 4 | 5 | 6 |
| 7 | 8 | 9 | 10 | 11 | 12 | 13 |
| 14 | 15 | 16 | 17 | 18 | 19 | 20 |
| 21 | 22 | 23 | 24 | 25 | 26 | 27 |
| 28 | 29 | 30 | | | | |
Calendar
Sort of a 2 part question:

For those that put in a new master cylinder, I assume the factory lines aren't where they should be. Where/what do you do with the existing lines? How doyou put in new lines? Is there tools you buy to bend? I have heard about pipe benders. How time consuming is it? Is it normal, IE: a mechanic I hire to do it wouldn't skin me alive? Is it a normal thing to do?

Part2:
if stainless or rubber lines are ok by the caliper, why (apart from heat) are they no good by the master cylinder? I am thinking of a non-hard lines approach with a new master cylinder idea or trying out something, to see if you like it, then, if you do, you could then make up some hard lines with proper heat sheilding, etc, when you decide on a setup that you like.

I am unsure of what I want to do, as I have a car with a stock MC, raised pin, with an LT1, and it needs some work. I was thinking bout buying a wilwood, or tildon, or dump it all and get a fully sorted car already, as I really suck at mechanical things (I have trouble with sway bar and brake/caliper installs - which should be 100% idiot proof).

gamman




Posts

: 112


Join date

: 2010-01-12


Location

: Canada



I don't know why the SS lines would not work at the MC other than the cost of the lines and fitting will add up fast. As far as what to use to bend you lines yourself, This is what I use, They're cheap and work really well.
http://www.harborfreight.com/cpi/ctaf/displayitem.taf?Itemnumber=95782
I see what you mean totally. It goes a bit deeper when converting to say a wilwood MC. The 944 lines are M10 x 1.0 bubble flared. The Wilwood MC are 3/8-24 inverted flares....so theres some nasty adapters needed. Theres really a lot of different ways to go with this. You can convert, straight off the MC, from 3/8-24 I.F. to -3AN. Or, you can do a 3/8-24 banjo to -3AN or stick with 3/8-24 all the way to the stock M10x1.0 lines and couple them with adapters. This is only a few ways with may more possibilities.
I bought the wilwood MC and am in the middle of trying to figure out how to run the lines to it. See, the Wiwood MC has a single oulet for the front and for the rears. So, I would have to tee-off at the MC for the front calipers. I was thinking of converting straight from the MC with a 3/8 to 3AN adapter fitting screwed into both ports. Then running -3AN PTFE brake lines (SS braided) through the firewall. The rear -3AN hose would then couple with the rear line by cutting the stock rear line, inserting a -3AN tube nut and sleeve, flaring the stock line with a 37 degree flaring tool (inverted flare here) and then just couple the two.
The fronts are a bit harder....the -3AN hose from the master would go through the firewall, and into a -3AN on branch tee with M10x1.0 bubble flare on both runs; which the right front stock line would thread normally. But then the left front would need a M10x1.0 bubble flare to -3AN adapter, then to a -3AN hose, back out through the firewall and down through the hole in the left fender well to couple with the stock M10x1.0 line.
Anyway, you see that theres ALOT of adapters and such to adapt aftermarket MC's to this car. Of course you could always stick with rigid line and simply convert right off the MC for M10x1.0, but thats no fun!
I dont (a will never) see any problem running stainless lines at the MC. Running rubber at the MC is probably not good because about 2 inches below it is some ridiculously hot headers!
Which may melt the rubber, cause them to leak, get brake fluid on the header......and then......FIRE!
Best tool to get is a flaring tool to cut and convert the M10x1.0 bubbles to standard single/double inverted flares. This will make things alot easier to deal with as far as adapters or off-the-shelf fittings/lines. Not alot of people carry M10x1.0 bubble flare fittings....which is whats taking me so long.

944-LT1

Moderator





Posts

: 1263


Join date

: 2009-06-09


Age

: 99


Location

: NOTRE DAME



I re-did an end on a triumph GT6 (talk about an easy setup to work on - elevated, nothing in the way, etc) at the MC. I put in the non-flared end (or non-tapered) and it leaked, had to insert a re-threader, then get the proper tap/die set, use on a line I had bought, etc. You get the idea. It was the last "serious" car repair I did for 20 years on my daily driver....

gamman




Posts

: 112


Join date

: 2010-01-12


Location

: Canada



Here's a Tilton Dual MC setup using SS hoses to hard steel lines...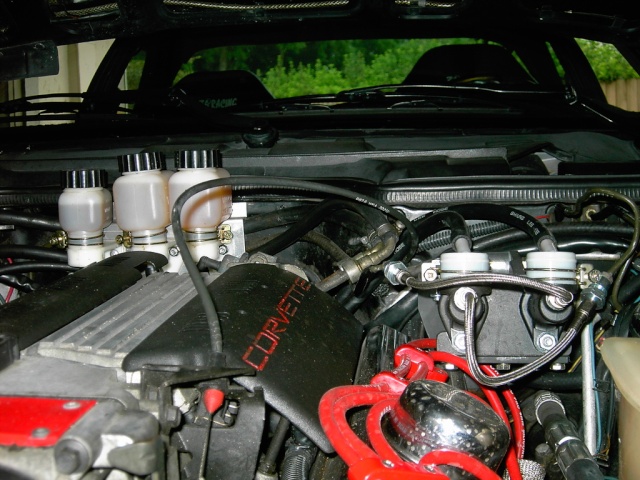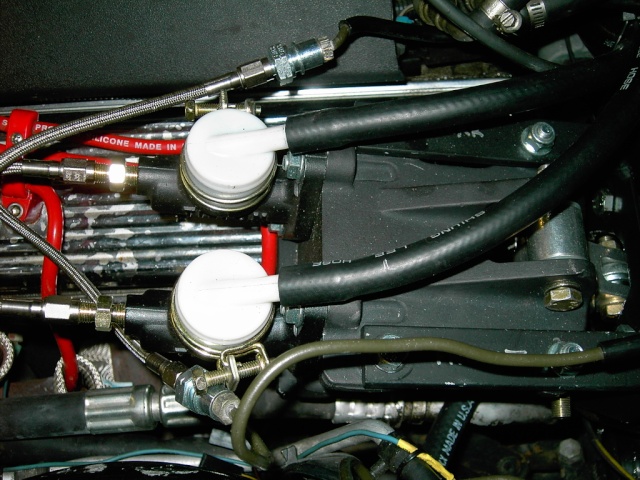 Looks like a couple of adapters and some -3an hoses is all it took.

gt1scca




Posts

: 795


Join date

: 2009-06-08


Age

: 52


Location

: Belton, SC



Why not just put the 3/8" inverted flare nut on the 10mm line? I've done it without any problems and it eliminated the adapters.

v8carreragts




Posts

: 330


Join date

: 2009-06-08


Age

: 64


Location

: Tucson, AZ



I didn't think they lined up.

gamman




Posts

: 112


Join date

: 2010-01-12


Location

: Canada



He means cut just the tip off the hard line off and slip on the 3/8 x 24 flare nut on, and re-flare it.
The adapters in the pics I posted are 10mm X 1.0 to -3an, and the -3an hoses thread onto 1/8" NPT X -3an 90 degree adapters. Adapters are only for the -3an side...
Also note that the SS lines have a burst strength of 3000 + PSI.

It could be done a little neater, though...

gt1scca




Posts

: 795


Join date

: 2009-06-08


Age

: 52


Location

: Belton, SC



Talked to a few racers. The reason is that even stainless buldges a bit. if its for the street, it will be fine. If its lightly used on the track, it may be ok, will get softer pedal. It WILL flex a bit. 944 racers laughed at me when I asked. They all said that they have been there, and removed as much stainless lines as possible. The ones that I got the opinion from won the last 2 of the 4 races at daytona spec series, so the opinion should be good.

However, it is a personal thing too I bet. Some don't mind some squishy pedal, some can't stand it. If its only a time thing/consistency thing, that is one thing. If its a safety thing, that is something else entirely.

I imagine the heat resistance on it is bad too.

I am going to be posting my brake m/c findings in a nother post.

gamman




Posts

: 112


Join date

: 2010-01-12


Location

: Canada



Always use the shortest braided lines possible. In all things hydraulic, there is a certain amount of wall stretch per inch in the run length of the line.

xschop




Posts

: 2710


Join date

: 2009-06-09


Location

: OKC



Similar topics
---
Permissions in this forum:
You
cannot
reply to topics in this forum