HOW TO DO AN ADVANCED SEARCH.
Mon Jul 08, 2013 3:56 pm by Admin
For the benefit of 944Hybrids users there are two search functions available for you to use.
The purpose of this sticky is to explain the "Advanced Search" function because it is much more powerful and is the best choice when researching information.
When you log on to the site a list of options is shown in a line at the top of the page. One option is labelled "Search", use this option (NOT the search box lower down on the right).
After you click on the upper search option, a drop down box appears. At the bottom of this box is a radio button marked "Advanced …
Comments: 0
June 2021
| Mon | Tue | Wed | Thu | Fri | Sat | Sun |
| --- | --- | --- | --- | --- | --- | --- |
| | 1 | 2 | 3 | 4 | 5 | 6 |
| 7 | 8 | 9 | 10 | 11 | 12 | 13 |
| 14 | 15 | 16 | 17 | 18 | 19 | 20 |
| 21 | 22 | 23 | 24 | 25 | 26 | 27 |
| 28 | 29 | 30 | | | | |
Calendar
I'm going to be running a 5.3L aluminum-block with standard truck compression, an agressive high-rpm camshaft, and 87 pump gas safe tune.

I will be mounting the oil cooler under the hood, where i will cut a hole in the hood and install a scoop.  This will only direct air into the oil cooler when the vehicle is moving.  There will not be a fan on the oil cooler.

I have 10AN lines running from the oil block on the engine.

I've seen many many many options for oil cooler shapes and sizes, and I have no idea which one will cool the engine enough during a race.

https://www.amazon.com/10AN-oil-cooler/s?k=10AN+oil+cooler

What did you guys use in your cars?

Is you cooler passive (no fan) or active (fan)?

10 row? 16 row? 19 row?

single pass? dual pass?

Thanks!!!!!!!!!

MotoRider42HC




Posts

: 83


Join date

: 2019-02-27



I went through a few iterations of my cooling system before getting it sufficient for track lapping. What I've got now will keep up indefinitely at my maximum pace in 90 degree temps near sea level. I'm using a Wizzard 944 radiator with an FC RX-7 Turbo tube-and-fin style oil cooler mounted in the 944's intercooler location above the radiator. I used the turbo bumper and duct work as well as louvered panels in the hood. The stock rad fans are in place, no fans for the oil cooler.

Earlier iterations used the non-turbo 944 radiator and body work with bar-and-plate style coolers, a factory C5 Z06 cooler and an Earl's "13-row extra-wide". The Z06 cooler I mounted in front of the radiator with an engine intake above. The Earls's cooler I mounted above the radiator like my final setup with good ducting and a belly pan. Neither setup was good enough to control oil and water temps over more than a few hot laps. YMMV...

Rich

Rich L.




Posts

: 900


Join date

: 2011-05-30


Location

: Seattle



Hmmm...

I've got the TPC upgraded radiator (turbo-style size i think).

I just placed an order for a 16-row double-stack oil cooler.

I'm hoping it will be enough with a nice big hood scoop.

Sounds like you were having issues with coolant temps, too?

MotoRider42HC




Posts

: 83


Join date

: 2019-02-27



Yup. I found that both oil and water would overheat if either cooler was insufficient. This is hot laps on the track, all 3 setups have been more than enough for street driving without a/c.

Rich


Rich L.




Posts

: 900


Join date

: 2011-05-30


Location

: Seattle



I have some information for you here...
First, for sizing Oil Coolers, read this https://www.pegasusautoracing.com/document.asp?DocID=TECH00133
Second, if you cut a hole in the hood to feed the oil cooler, you will be disappointed in it's efficiency, because the top of the hood is a lower pressure zone than in the front of the vehicle...the hood is best used for extractor vents/louvers in the low pressure zone to extract hot air from the engine bay and make any coolers receiving high pressure cold air in the front of the vehicle more efficient by extracting the hot air from the engine bay after it has passed through said coolers.
Here is what I am doing on my current Turbo LS build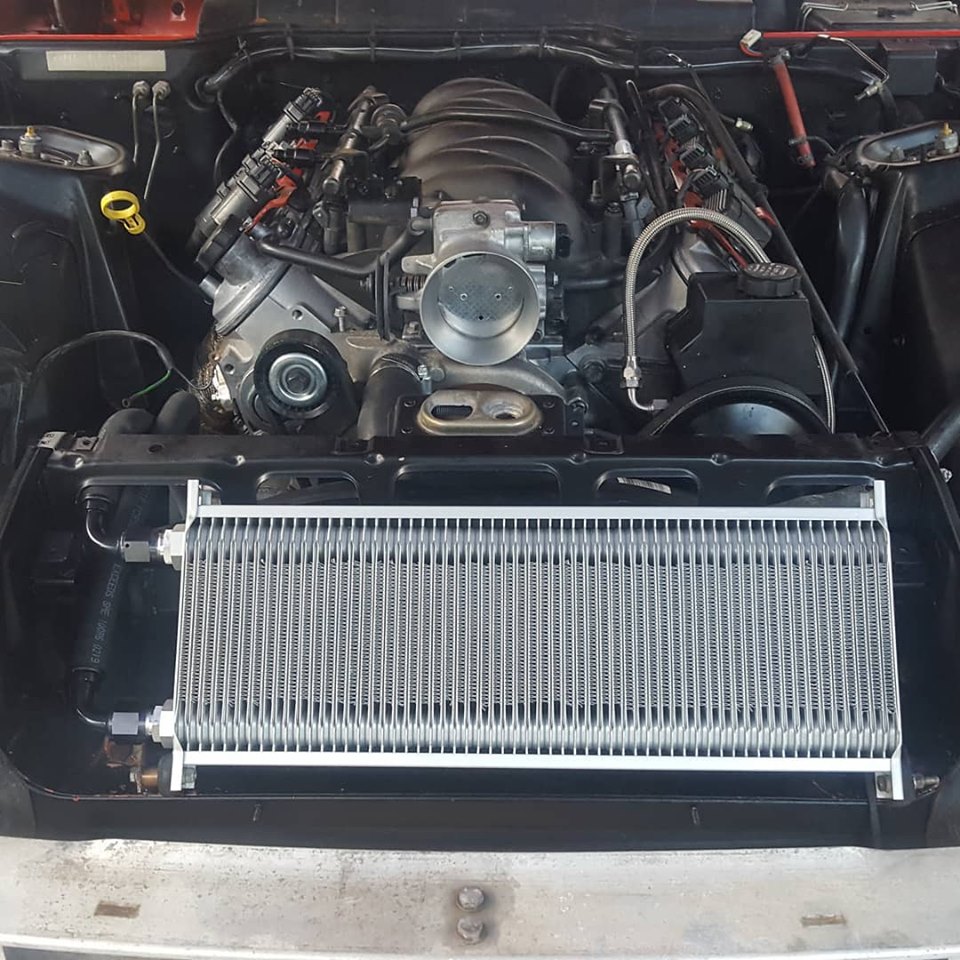 I am using an Improved Racing Remote Oil Filter with Integrated Oil Thermostat (205F), 10AN Aeroquip hoses and hose ends, and an Earl's 60 row narrow oil cooler. With an integrated or standalone thermostat and an adequately efficient cooler the oil temperature should stabilize around the thermostat rated temperature assuming good airflow into and OUT OF the oil cooler.

bluehellfire666




Posts

: 210


Join date

: 2009-06-09


Age

: 31


Location

: Bowie, MD




Rich L.




Posts

: 900


Join date

: 2011-05-30


Location

: Seattle



Rich,
Could you give me the part numbers for your Wizard radiator and oil cooler? I like the idea of using the stock fan assembly.
Thank yo, Gil.

gwistrup




Posts

: 66


Join date

: 2018-10-25



I got mine from Lindsey Racing, branded "Wizard" (But dang that price has gone up...):
https://www.lindseyracing.com/LR/Parts/944RADBIL.html

The oil cooler I got off EBay, Mazda RX-7 FC OEM part.

Rich L.




Posts

: 900


Join date

: 2011-05-30


Location

: Seattle



Thanks for the information. I did a little digging and I found that you can buy the radiators directly from Wizard for about $40 less and they are located in upstate New York. They are not too far from where I live. I like how neatly the RX-7 oil cooler fits in the area that was previously occupied by the inter-cooler.
Gil

gwistrup




Posts

: 66


Join date

: 2018-10-25



Similar topics
---
Permissions in this forum:
You
cannot
reply to topics in this forum