HOW TO DO AN ADVANCED SEARCH.
Mon Jul 08, 2013 3:56 pm by Admin
For the benefit of 944Hybrids users there are two search functions available for you to use.
The purpose of this sticky is to explain the "Advanced Search" function because it is much more powerful and is the best choice when researching information.
When you log on to the site a list of options is shown in a line at the top of the page. One option is labelled "Search", use this option (NOT the search box lower down on the right).
After you click on the upper search option, a drop down box appears. At the bottom of this box is a radio button marked "Advanced …
Comments: 0
June 2021
| Mon | Tue | Wed | Thu | Fri | Sat | Sun |
| --- | --- | --- | --- | --- | --- | --- |
| | 1 | 2 | 3 | 4 | 5 | 6 |
| 7 | 8 | 9 | 10 | 11 | 12 | 13 |
| 14 | 15 | 16 | 17 | 18 | 19 | 20 |
| 21 | 22 | 23 | 24 | 25 | 26 | 27 |
| 28 | 29 | 30 | | | | |
Calendar
Anyone converted an L96 for use in their 944?

I can get a good one cheap but am not sure it'll work in the car.

Any help would be appreciated

jdgrn01




Posts

: 3


Join date

: 2019-03-26



yes you can use it, but there are some things to consider

1) weight- when doing an aluminum block ls in a 944 the weight balance of the car is mostly unaffected as an aluminum ls is within a few pounds of the 4 cylinder. an iron block ls engine is 80 lbs heavier

2)accessory drive- truck accessories will not work in a 944, you need to use something from a car. a full factory style accessory drive can be another $1k.

3)intake manifold- the truck manifold wont work, and being an l96 uses rectangle ports your going to be looking for an ls3 intake manifold, fuel rails and injectors. this could be $400-500.

the l96 is no slouch, but its not a powerhouse as its designed for low reving truck duty. just a cam swap would wake the engine up a bunch, but you gotta keep in mind its a vvt engine, and most delete the vvt when doing a cam swap. there is added cost here. having vvt limits you to high offset accessory drives, i think that essentially limits you to 5th gen camaro stuff, although im not sure on fitment of that in a 944. this is another point for deleting vvt as you can then run any accessory drive.

i would say add up the costs for this "cheap" truck engine and compare it to a complete ls3 dropout, or even an ls1/2/6. the costs for converting a truck engine add up fast and you may find your approaching the cost of an aluminum block engine.

sharkey




Posts

: 666


Join date

: 2014-11-21


Age

: 36


Location

: Abbotsford BC



Thank you, I appreciate the info.

Lots to consider..

jdgrn01




Posts

: 3


Join date

: 2019-03-26



jdgrn01 wrote:Thank you, I appreciate the info.

Lots to consider..
FWIW i am using an aluminum truck engine. (The L96 is an aluminum block) I was able to source all of my corvette accessories from misc. sellers via Facebook and Ebay, and then i just cleaned them up myself.
Same thing with the Cam. Summit has a nice selection of Aftermarket cams that won't break the bank. Or a decent used LS3 cam would work as well.
Intake manifold i found used in excellent condition for 200$.

LStuner




Posts

: 32


Join date

: 2017-11-12



This might help with understanding the different engine configurations and the parts and accessories that have to be changed out. There are other configurations that are used, we tried to focus on the stock LS1 1998-2002 Camaro as the standard.
General guideline for converting LS Engines for the 944.
There are three standard LS configurations that will fit stock into the 944:
1) 1998-2002 Camaro (F-Body) - Most popular. Best after market support for parts.
2) 2004-2005 GTO
3) CTS-V
* See diagram below to compare the externals of the Camaro to the Corvette, Truck and CTS-V engines.
* Brackets and accessories are not interchangeable between the different LS configurations.
Both truck and Corvette engines have to have to be changed externally top and front.


Corvette - The alternator is the issue. Only the front has to be changed.
Front using F-Body after market parts:
Water Pump and Gaskets - Corvette pump can be used with the F-Body brackets
Harmonic Balancer and Bolt
PS Pump and Bracket
Alternator and Bracket
A/C Compressor and Bracket
Serpentine Belt

Truck - Both the top and front of the engine have to be changed. See Corvette above for front.


Truck  Top
Intake Manifold
Throttle Body and cable bracket
Fuel Rails
Injectors and O-rings
Coil Packs - Trucks can be reused.
Spark Plug Wires - Need to verify length for application.

VVT Information:
https://www.onallcylinders.com/2017/12/05/ls-tech-how-to-delete-variable-valve-timing-vvt-on-an-ls-engine/
Engine Comparison: Below is a comparison of the 4 engine configurations and an F-Body front accessories diagram.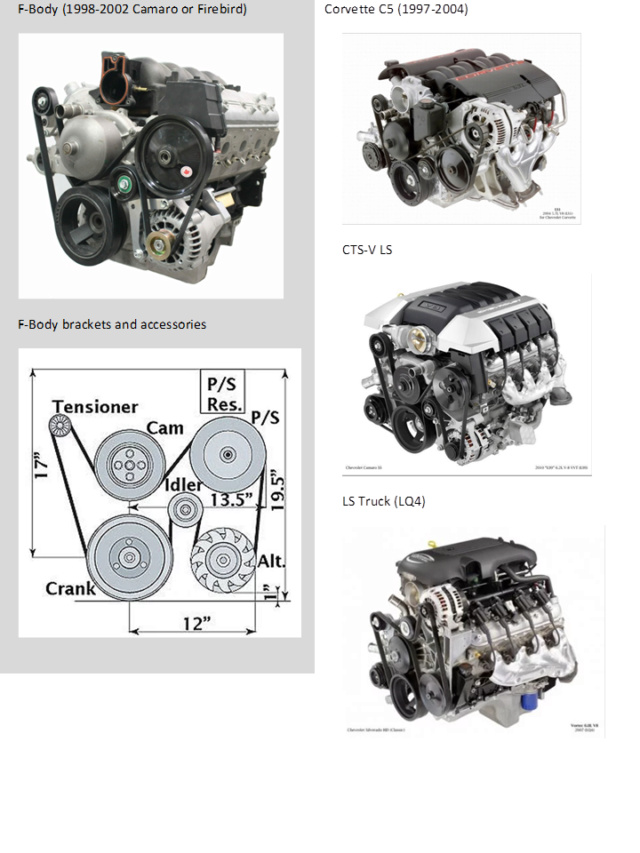 Regarding the LS 5.3L LM4 2002-2004 Trailblazer engine, does the same considerations apply regarding need to change front accessories, manifold, etc. to car (Camaro) based pieces?
I purchased an '87 NA last Fall. Really like the car, but the stock engine is woeful. I have searched engine swap/modifications options extensively and am very close to deciding to go with the aluminum LM4. Stock configuration would be find for me as 2X power & torgue would be a great improvement, and keep worries of stock drivetrain durability at bay, or could be improved at a later date.
There is an '04 Trailblazer in LKQ yard near me with P VIN code engine. Don't know if engine is good. Should I be looking at getting any engine control stuff off of it, i.e., computer, wiring harness, etc. while it is available? 40% off at LKQ this weekend.
I'm so close to making a decision to undertake this project with a 5.3L, but now concerned if the LS1 route is better (or same net price), then cost just isn't making sense as those engines simply cost a lot more when a good used one can be found. I really also don't want the extra hp/torque for drivetrain abuse.
Thanks for any guidance, having been going through many posts on this wesbite, and many others.

944Mike




Posts

: 5


Join date

: 2019-04-22


Location

: Summerville SC



the lm4 is still considered a truck engine, it uses the same accessory drive and intake manifold as the trucks do. its essentially useful as a long block.

as far as the computer and wiring harness side of things goes, it really depends on if you want to build your own wiring harness or buy a swap harness. regardless, you will need the ecm, gas pedal, maf, o2 sensors (at least the upstreams) and throttle body.

sharkey




Posts

: 666


Join date

: 2014-11-21


Age

: 36


Location

: Abbotsford BC



Picked up the noted parts this morning. Its probably more about buying some parts and committing to the conversion project journey. And realization that talk has now become action for my understanding wife
I forgot to bring the needed tools to get the O2 sensors. Should I also get the exhaust manifolds, or will they not fit in 944 anyway?? I realize stock truck manifolds will not flow great, just want to stay with OEM type parts as much as possible.

944Mike




Posts

: 5


Join date

: 2019-04-22


Location

: Summerville SC



there is no stock exhaust manifold that will fit in a 944. your going to need swap headers.


sharkey




Posts

: 666


Join date

: 2014-11-21


Age

: 36


Location

: Abbotsford BC



Thanks for the quick response. Saved me a wasteful trip to LKQ again.
I was doubting stock type manifolds would work.
Looking into options now to get a good used engine. No rush though, driving the car as is with good a/c for summer months.

944Mike




Posts

: 5


Join date

: 2019-04-22


Location

: Summerville SC



Similar topics
---
Permissions in this forum:
You
cannot
reply to topics in this forum