HOW TO DO AN ADVANCED SEARCH.
Mon Jul 08, 2013 3:56 pm by Admin
For the benefit of 944Hybrids users there are two search functions available for you to use.
The purpose of this sticky is to explain the "Advanced Search" function because it is much more powerful and is the best choice when researching information.
When you log on to the site a list of options is shown in a line at the top of the page. One option is labelled "Search", use this option (NOT the search box lower down on the right).
After you click on the upper search option, a drop down box appears. At the bottom of this box is a radio button marked "Advanced …
Comments: 0
October 2021
| Mon | Tue | Wed | Thu | Fri | Sat | Sun |
| --- | --- | --- | --- | --- | --- | --- |
| | | | | 1 | 2 | 3 |
| 4 | 5 | 6 | 7 | 8 | 9 | 10 |
| 11 | 12 | 13 | 14 | 15 | 16 | 17 |
| 18 | 19 | 20 | 21 | 22 | 23 | 24 |
| 25 | 26 | 27 | 28 | 29 | 30 | 31 |
Calendar
Hi all!
Have any of you used a Drive by Wire LS1 in your 944 conversion?
Know of anyone who has???
I'm pulling out what hair I have left trying to figure out HOW to mount the DBW throttle pedal in my 1987 Porsche 944 NA!
Thanks in advance! I'm SOOOO darn close to firing this thing up it's giving me anticipation twitches lol

VA944LS1




Posts

: 18


Join date

: 2017-12-16


Age

: 69


Location

: Linden, Virginia



I have found a solution to mount this pedal within spec of where the pedal is supposed to be mounted which is 2" lower than the brake pedal and 2.5" to the right of the brake pedal.  
I will post pictures when I am done, but in short I used the metal bracket that came with the pedal.  I bent a piece of it 90 degree and drilled a separate mounting hole to give me a form that will mount in the car.  It was difficult to crawl in there and with an extra set of hands, we worked the problem.  I just need to mount the bolts and take pictures now.  When mounted, it sits where the instruction spacing guidelines have detailed.  When you put the bracket up there and see that the left side is hitting the brake pedal assembly, that is where I bent it with a vice.  The pictures better explain this.  I expect to get this done in the next week.  I hope I can help you with what I am experimenting with.
Did you remove the existing pedal mount and rod from the Porsche? (ie cut it out)

VA944LS1




Posts

: 18


Join date

: 2017-12-16


Age

: 69


Location

: Linden, Virginia



Yes, I removed the original pedal at the top hinges and bottom two nuts.  It is wide open.  I then started putting the bracket in there fishing for a solution.  I found a bunch of pictures,(sorry for any duplicates.....I am getting used to posting here) but I will show it installed soon. The measurements should help you know where I drilled the extra hole and where I did the 90 degree bend.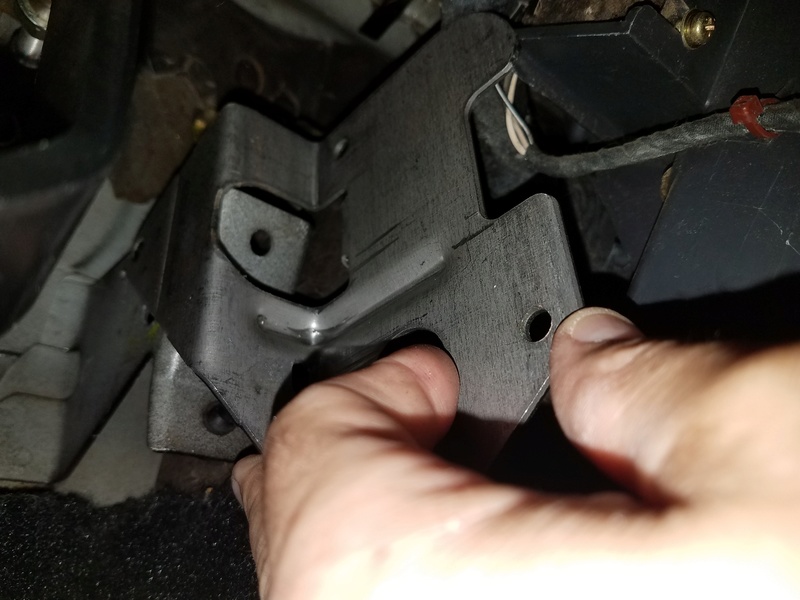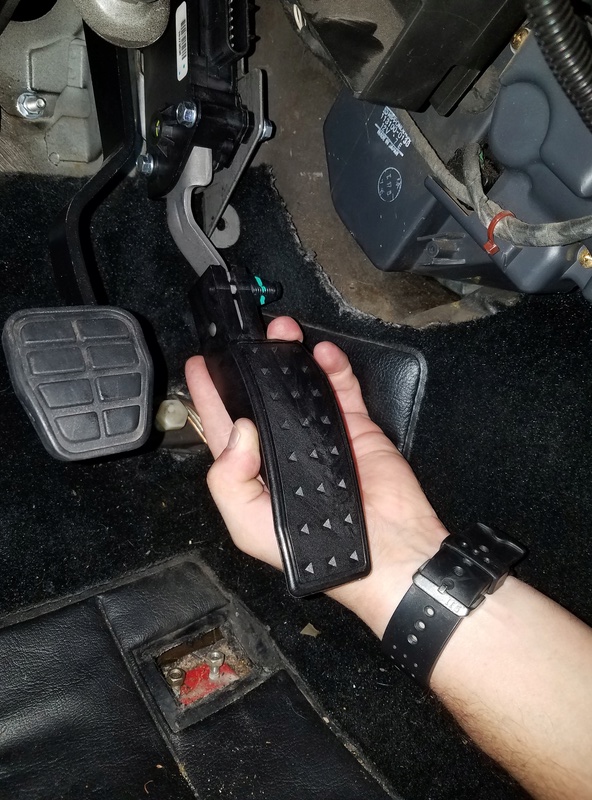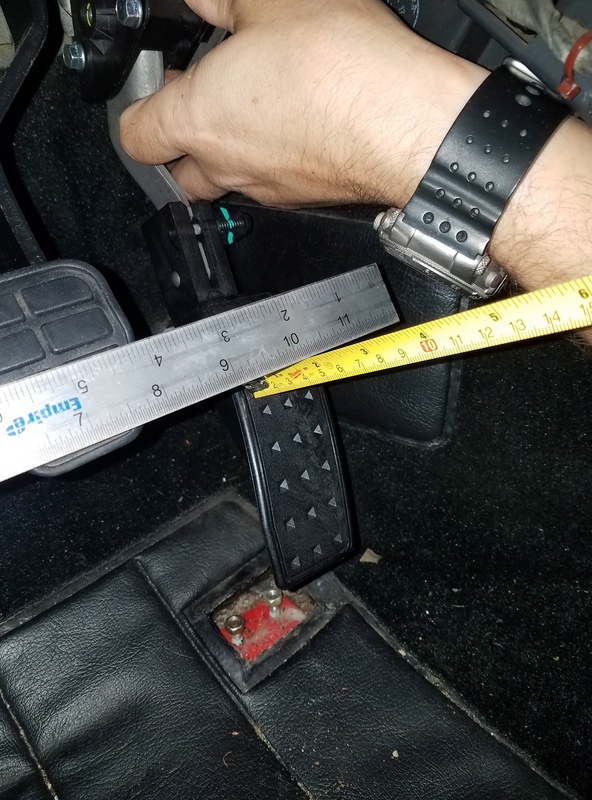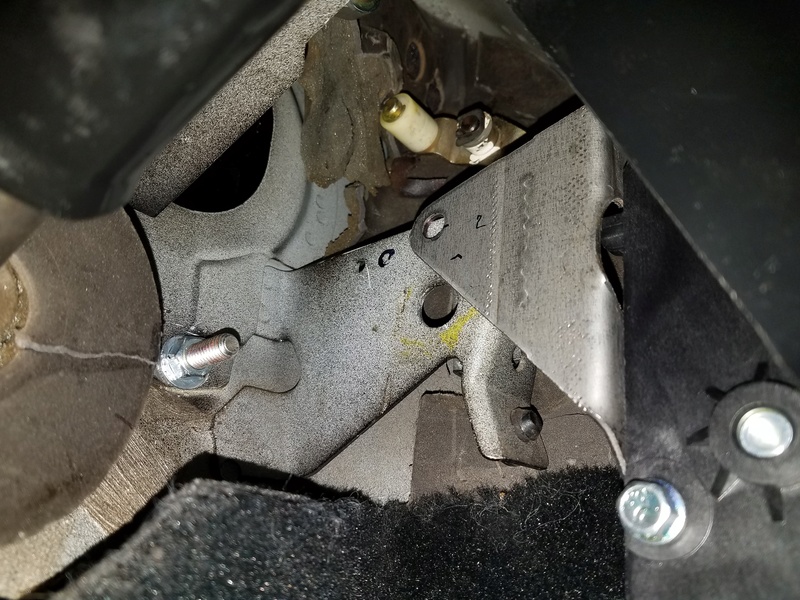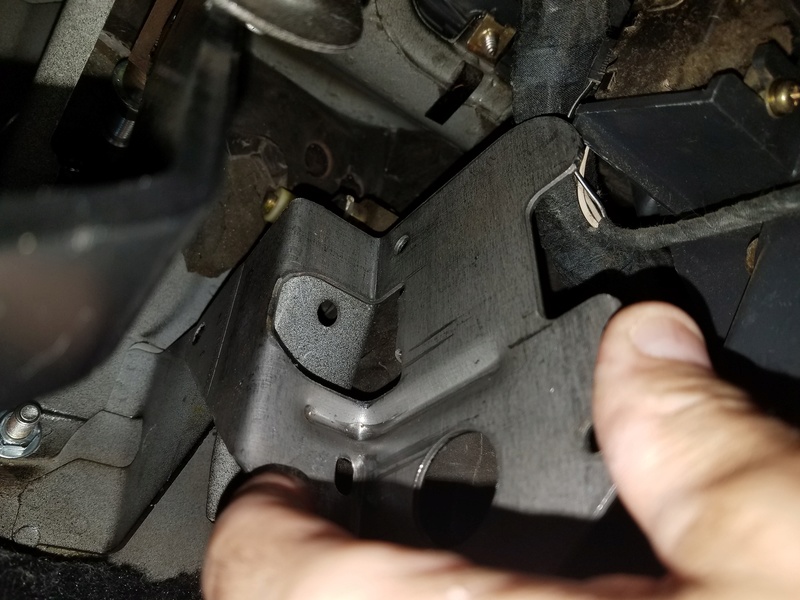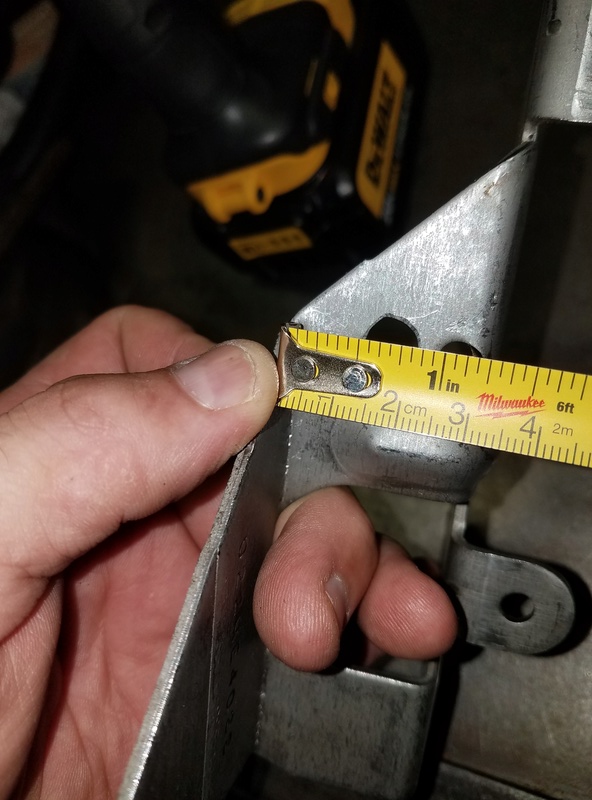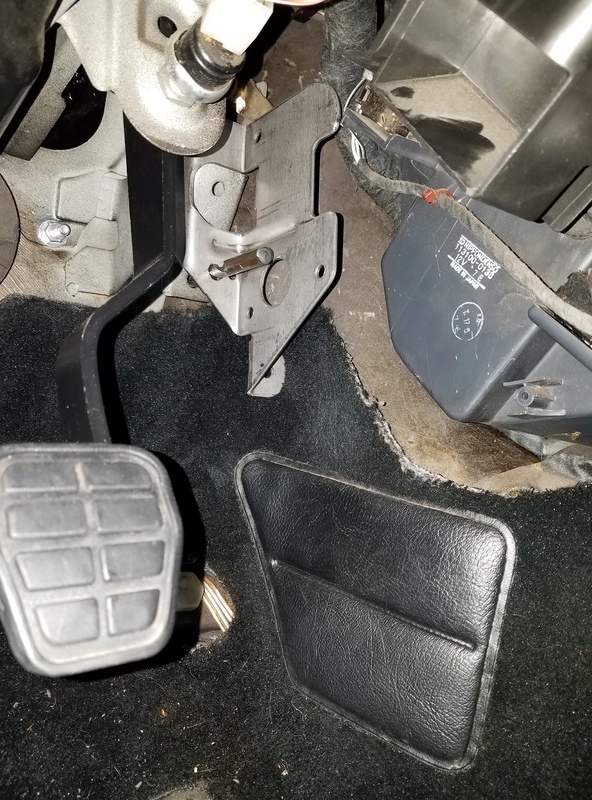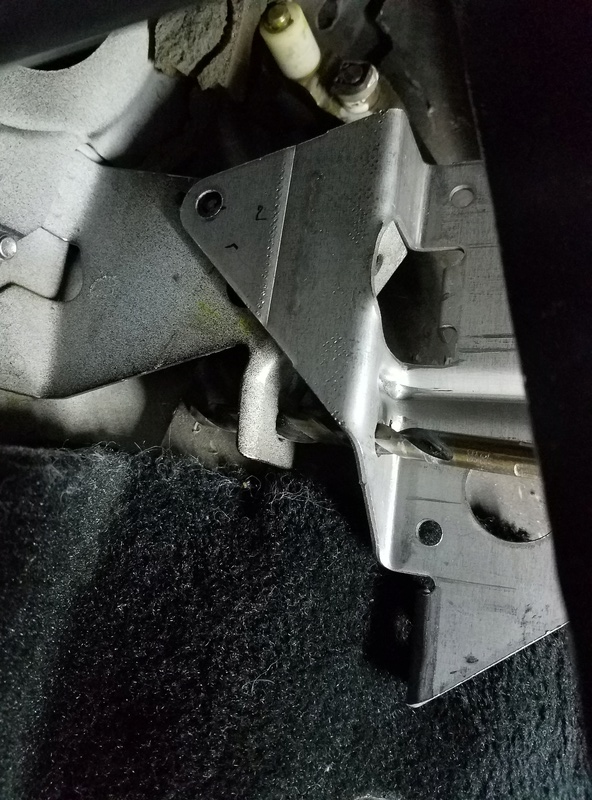 The hardest part will be drilling the bent part and I needed a right angle drill.  I now have it and that is why I am just now getting to the final installation.  You can see I placed the pedal in the correct position before using a marker for the three holes.  It will have a three point bolt installation (strong) and it will be in the correct position.  Also, we shed some blood due to the sharp edges........careful.

Kevin
Last edited by Porsche951toLS3 on Tue Jan 23, 2018 12:33 am; edited 1 time in total
Thanks for all the pics!
Do you have a template for the bracket?
My pedal looks different than yours. Does yours bolt in from left to right or along the longitudinal acces of the car front to rear)

VA944LS1




Posts

: 18


Join date

: 2017-12-16


Age

: 69


Location

: Linden, Virginia



The bracket I used came with the LS3 harness and was probably made for some chevy vehicle.  It already had some mounting holes in it.  I did not know what to do when I put it up in there trying to figure out how to get it mounted.  At first the one part of the bracket was crossing over into the brake area, so I figured out where to bend it back 90 degrees which now made contact with the metal bracket on the floorboard originally used for the porsche gas pedal. While holding it all in position, I marked where I wanted to drill a hole and bolt it on.  This first hole kind of works now to allow the bracket to swivel as I line up two other mounting points as well as measure along the way for distance from the brake pedal and 2" lower than the brake pedal.  

To your questions - My bracket was made to have three bolts go left to right or vice versa to bolt the pedal to the bracket.  So I will be using three bolts to attach the bracket to the car and three different bolts to mount the pedal to the bracket.  

I was able to find three mounting points that allowed the pedal to be mounted according to the instructions.  When it is all said and done, I only had to drill one additional hole in my pedal bracket in order to bolt it to my porsche floorboard mounts.  That drilled bracket hole had to be beveled so the bolt head would be flush with the bracket metal.....otherwise when you mount your pedal on the bracket, it will hit the head of that bolt.  I guess I am doing mild fabrication to make this work.  Not perfectly straight forward, but at least you have "ideas" to get yours to mount up.  I hope this helps.  I thought the pictures would kind of get you started.  I know how frustrating it is and if it were not for my brother keeping me going, I was getting pissed.  We are twins and 52 years old.........he and I work well together to work the problem.  

I know you will need a 90 degree drill for one of the holes up at the top since everything up in there gets in the way of the drill.

Pictures coming shortly of the final mounting.

SIDE QUESTION: Did you get that answer for all your wiring questions? I could really use anything you have as I am working on the wiring this week.

Kevin
unique202 likes this post
Ok.  I got two bolts in and the pedal is in the correct position.  I have only one more bolt to add the maximum stability for the mounting of this pedal.  To say that it was easy is bull.  I wish I had a little kids that knew how to drill since putting my butt down under a steering wheel was painful at best.  Either way it is done and the pedal is 2" lower than the brake pedal and 2.5" to the right of the brake pedal which works according to the directions.  The final pictures are below which all get turned sideways when I upload them. I hope this helps someone with getting ideas.  If only someone would have made a mount for all this.........I would have paid 50.00 for it.
I finished the third and final mount by welding two tabs into a 90 degree angle and bolting the pedal to one side and the other through the side firewall.  Very strong and in the perfect position.  I hope the pictures will help others.  I did not vacuum the shavings for the pictures.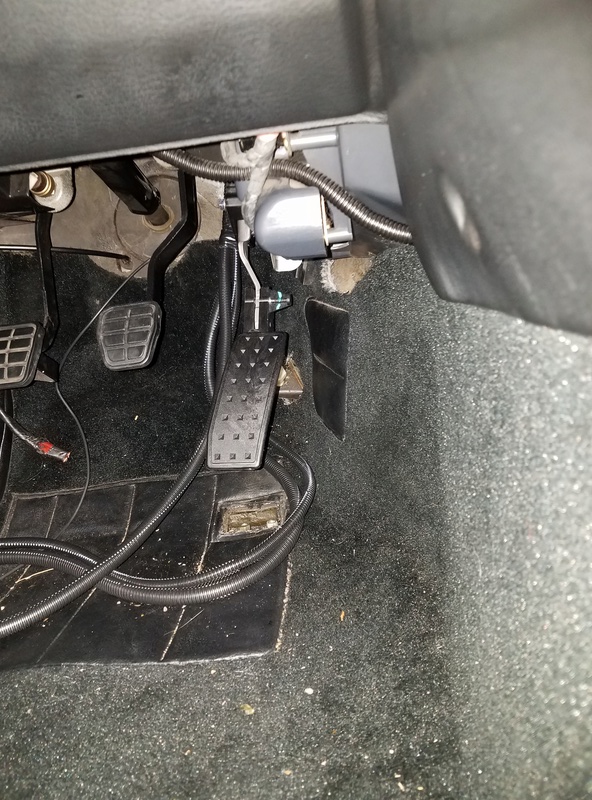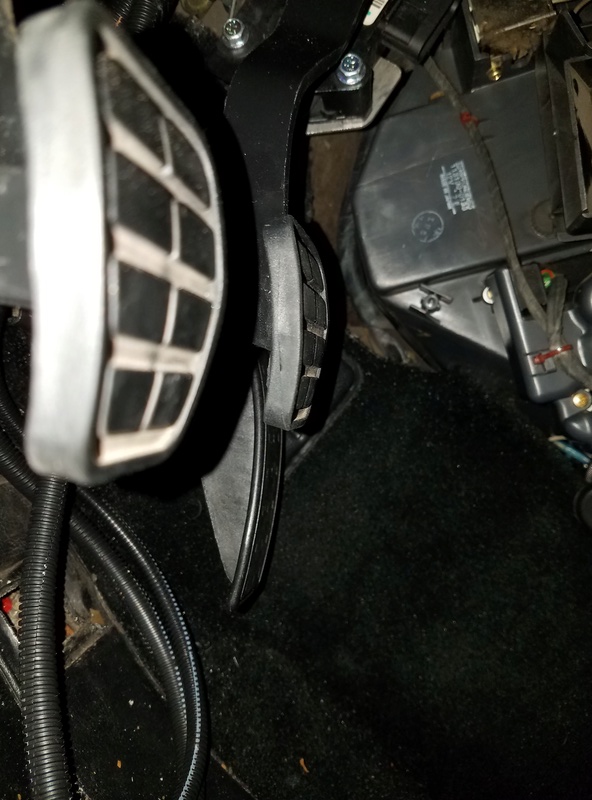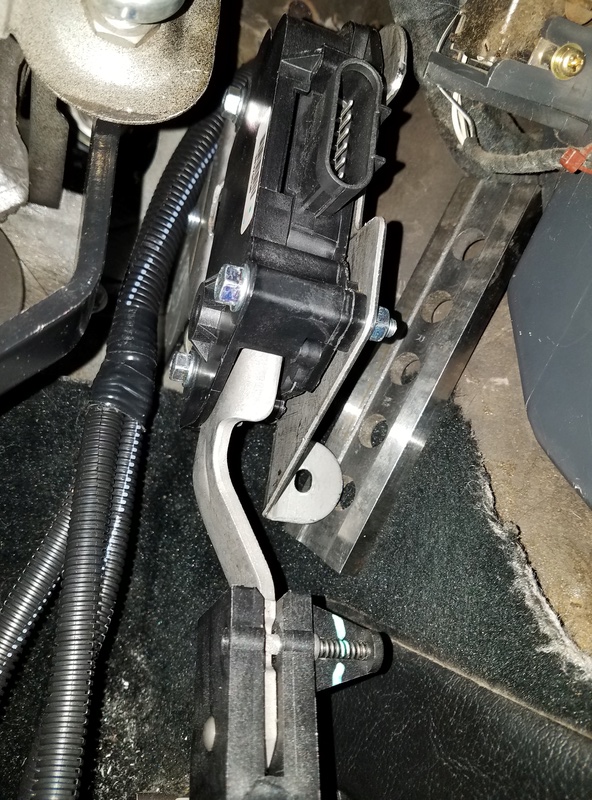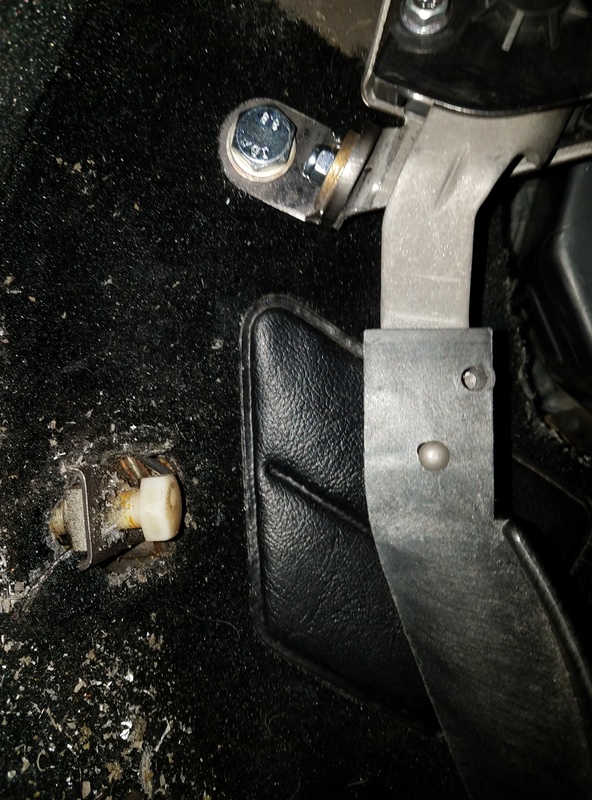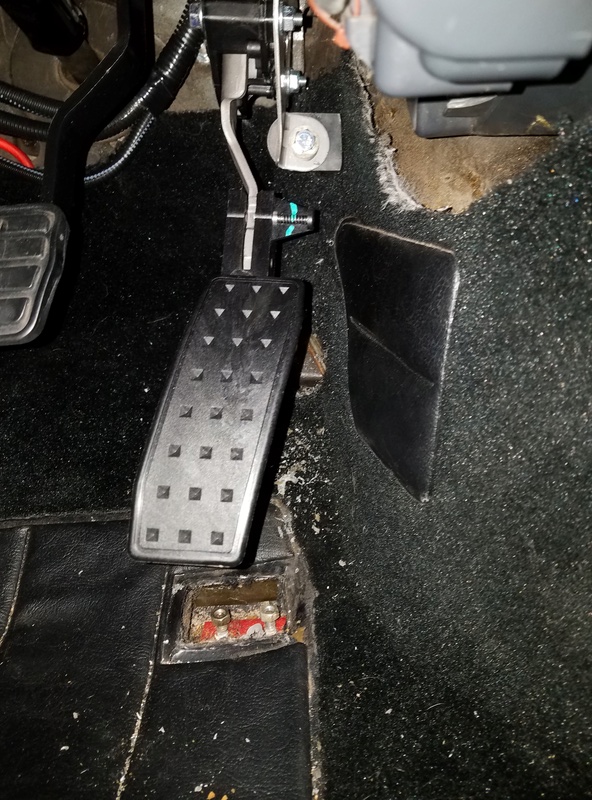 Last edited by Porsche951toLS3 on Tue Jan 23, 2018 12:41 am; edited 2 times in total
Looking good!
I wish my DBW pedal was thin like yours...mine is much wider.
I'll figure a way, got to, I've basically been told by Renegade "good luck"

VA944LS1




Posts

: 18


Join date

: 2017-12-16


Age

: 69


Location

: Linden, Virginia



Similar topics
---
Permissions in this forum:
You
cannot
reply to topics in this forum