HOW TO DO AN ADVANCED SEARCH.
Mon Jul 08, 2013 3:56 pm by Admin
For the benefit of 944Hybrids users there are two search functions available for you to use.
The purpose of this sticky is to explain the "Advanced Search" function because it is much more powerful and is the best choice when researching information.
When you log on to the site a list of options is shown in a line at the top of the page. One option is labelled "Search", use this option (NOT the search box lower down on the right).
After you click on the upper search option, a drop down box appears. At the bottom of this box is a radio button marked "Advanced …
Comments: 0
October 2020
| Mon | Tue | Wed | Thu | Fri | Sat | Sun |
| --- | --- | --- | --- | --- | --- | --- |
| | | | 1 | 2 | 3 | 4 |
| 5 | 6 | 7 | 8 | 9 | 10 | 11 |
| 12 | 13 | 14 | 15 | 16 | 17 | 18 |
| 19 | 20 | 21 | 22 | 23 | 24 | 25 |
| 26 | 27 | 28 | 29 | 30 | 31 | |
Calendar
I replaced the very well worn front rotors on my 86 944 Turbo.   I bought an EBC kit that had the RK141 rotor set and pads.   When I try to re-install the caliper over the rotor the caliper hangs on the outside of the rotor and is almost impossible to get back off. It's not hanging on the pistons but a part of the caliper that does not move. With some careful work and a few taps of a mallet I can get them back off.
I'm wondering if I got the correct rotors so I've sent a message to EBC to make sure I was sent the correct rotors but I've not had a message back confirming the part number. At this point I'm just a bit frustrated and need a second set of eyes to see if I'm just missing something.
I've attached two pictures showing what I'm talking about.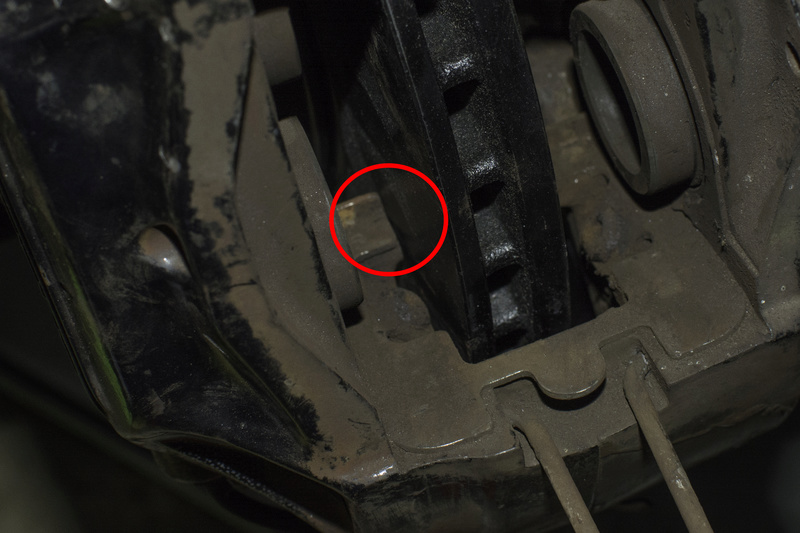 richey




Posts

: 3


Join date

: 2017-03-21



Are you missing the spacers? (see red below)

chrenan




Posts

: 194


Join date

: 2011-11-20



After picking up a large caliper to measure the rotors on the car vs the ones that came off the car there is a difference in size. The ones that came off are 11 3/4" by 1" thick where the EBCs are a little over 11" by 3/4" thick. I'm guessing my issue (without taking everything apart) is that the offset where the rotor connects to the hub is incorrect as well which is leading to my clearance problems.

I went back and looked at my order and it clearly says these are for an 86 944 Turbo, actually it says:

Fits Following Model(s):
Fits All Models.

So I guess I have to go back to the original place I bough them and spend a few more weeks waiting for rotors to go back and fourth in transit.

richey




Posts

: 3


Join date

: 2017-03-21



had the same issue when i ordered my rears for an 86 turbo for r1 concepts. they listing said 86 turbo is the same as all 83-86 and argued that i must have an 87+ car, and because the time between buying and installing was so long they wouldnt take them back.

86 turbo rotors being 1 year only make it really difficult to get the right parts. rock auto usually lists dimensions so you can make sure the part number corresponds to the right part, even when your buying parts elsewhere.

sharkey




Posts

: 640


Join date

: 2014-11-21


Age

: 36


Location

: Abbotsford BC



EBC confirmed I had the wrong kit for my car. I went back to the site where I bought them and they didn't have an issue fixing the problem. The only thing they asked for was a copy of the email chain I had with EBC to confirm the part numbers. The only thing I lost was some of my time but that's not that big of a deal since this is a project for fun and it's not my daily driver.

richey




Posts

: 3


Join date

: 2017-03-21



---
Permissions in this forum:
You
cannot
reply to topics in this forum