HOW TO DO AN ADVANCED SEARCH.
Mon Jul 08, 2013 3:56 pm by Admin
For the benefit of 944Hybrids users there are two search functions available for you to use.
The purpose of this sticky is to explain the "Advanced Search" function because it is much more powerful and is the best choice when researching information.
When you log on to the site a list of options is shown in a line at the top of the page. One option is labelled "Search", use this option (NOT the search box lower down on the right).
After you click on the upper search option, a drop down box appears. At the bottom of this box is a radio button marked "Advanced …
Comments: 0
October 2020
| Mon | Tue | Wed | Thu | Fri | Sat | Sun |
| --- | --- | --- | --- | --- | --- | --- |
| | | | 1 | 2 | 3 | 4 |
| 5 | 6 | 7 | 8 | 9 | 10 | 11 |
| 12 | 13 | 14 | 15 | 16 | 17 | 18 |
| 19 | 20 | 21 | 22 | 23 | 24 | 25 |
| 26 | 27 | 28 | 29 | 30 | 31 | |
Calendar
In the attached pic I am pointing to where the leak is. The other pic is of where the bleeder screws onto the slave cylinder. My question is, it looks like there's no way to get into the bell housing and unscrew the bleeder fitting. The bleeder came in a brand new Spec Stage 2 kit. After a long build and rebuild process on this car, the thought that I would have to pull the motor back off the torque tube to replace this bleeder is supremely saddening. I am hoping I am wrong...please, please let me be wrong.
Sincerely,
A desperate, at the end of his rope, about ready to just burn my car to the ground enthusiast...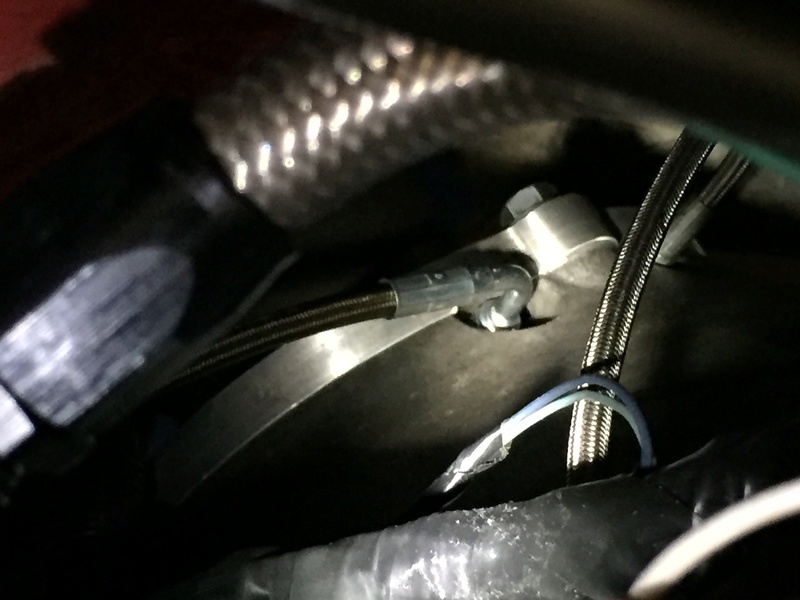 jpkinerk




Posts

: 171


Join date

: 2013-02-13



I am not sure how the ends are crimped onto these lines but you could see if there are any local shops that fabricate these type of hoses and if your line is long enough and if their equipment is portable and can come to the car, you could drive the car to their shop and have them either recrimp your end or cut off the end and crimp on a new one. If not you maybe able to find an end that can be set up with AN fittings to replace the end you have. Either way you would have to bleed it where ever the work was performed. I don't think you could get a new line to thread onto the slave and then be able to tighten it sufficiently to not leak.
Good luck I had the same issue but mine leaked at the slave end, we had to disassemble and replace the line.....sucked.

hutchjc1




Posts

: 68


Join date

: 2015-07-21


Location

: Westminster Maryland



Looks like depending on your hose size and type you could cut the end of and add the ends needed to replace the bleeder
https://www.summitracing.com/parts/wil-220-0627?seid=srese1&cm_mmc=pla-google-_-shopping-_-srese1-_-wilwood-disc-brakes&gclid=CJbe0qbN184CFUFZhgodZLAIEA

You would need a fitting that was the correct size for your hose to an 1/8-27 NPT female that would allow the above part to thread in and give you a bleeder.

hutchjc1




Posts

: 68


Join date

: 2015-07-21


Location

: Westminster Maryland



Thanks for the ideas, Hutch. I liket the sound of the first one. My buddy says he has a large crimper used for battery cables. I'm wondering if it's worth trying some gentle pressure with that first. The other idea someone PM'd me about was like your second post. They suggested cutting off the fitting and putting on a new compression fitting. I've never installed a compression fitting like that, but I'm assuming it can't be too much more involved than making AN lines?

jpkinerk




Posts

: 171


Join date

: 2013-02-13



If you know who made the hose assembly ( mine was tick ) they may able to send you new parts to have crimped on, I would try to fix this end before getting into replacing it completely. Mine has a small leak somewhere in the system and I have to bleed it every few months, and I have to use the old pump, open, close, pump method as the speed bleeder doesn't seem to seal well enough. I remember some others dealing with the same issue.

hutchjc1




Posts

: 68


Join date

: 2015-07-21


Location

: Westminster Maryland



Problem solved! So far... (don't want to jinx it)
My buddy brought over this gnarly looking crimper with spinning sprockets on each side of the head. They match up to accomodate a variety of different fitting sizes. Pretty clever. Anyway, it seemed to do the trick. Thanks for your additional ideas and PM's. I try to pay it forward by documenting the solution anytime I post. Here's the tool I used...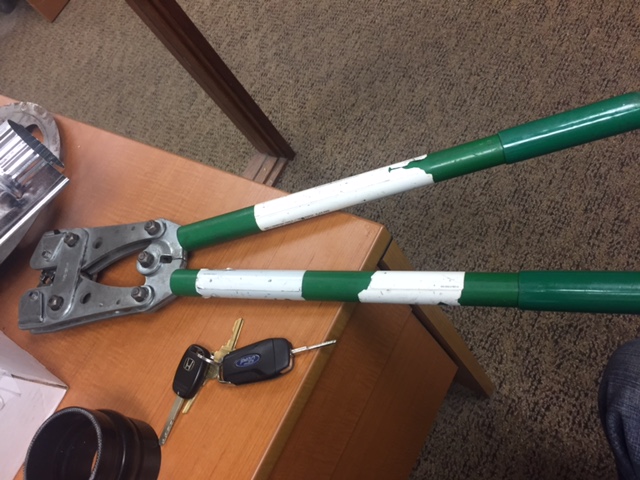 jpkinerk




Posts

: 171


Join date

: 2013-02-13



Similar topics
---
Permissions in this forum:
You
cannot
reply to topics in this forum