HOW TO DO AN ADVANCED SEARCH.
Mon Jul 08, 2013 3:56 pm by Admin
For the benefit of 944Hybrids users there are two search functions available for you to use.
The purpose of this sticky is to explain the "Advanced Search" function because it is much more powerful and is the best choice when researching information.
When you log on to the site a list of options is shown in a line at the top of the page. One option is labelled "Search", use this option (NOT the search box lower down on the right).
After you click on the upper search option, a drop down box appears. At the bottom of this box is a radio button marked "Advanced …
Comments: 0
June 2021
| Mon | Tue | Wed | Thu | Fri | Sat | Sun |
| --- | --- | --- | --- | --- | --- | --- |
| | 1 | 2 | 3 | 4 | 5 | 6 |
| 7 | 8 | 9 | 10 | 11 | 12 | 13 |
| 14 | 15 | 16 | 17 | 18 | 19 | 20 |
| 21 | 22 | 23 | 24 | 25 | 26 | 27 |
| 28 | 29 | 30 | | | | |
Calendar
Page 3 of 3 •
1, 2, 3
What's an Arduino?

I'm no where near that point, but always interested in alternative ways, once I do get that far lol

944_GASM




Posts

: 68


Join date

: 2015-07-23


Age

: 30


Location

: Buffalo, NY



https://en.wikipedia.org/wiki/Arduino


Arduino is like a $30 mini computer with all kinds of cool accessories. Hall effect sensors, gps, accelerometer, etc... I actually worked on a project back in college where we used one to control a pair of linear actuators to automate a T5 transmission for a hybrid project with a 5.3L LC9, electric motor, backed up by the automated T5. I was mainly on the machining side of that though, so I'm not very familiar with the ardiuno, just the capabilities. It should be simple to use it to control a DC motor, and it should be easy to take an input from the ECM or trans output speed sensor, or just a little hall effect sensor on an ABS ring. I think a computer fan would be the easy way to send an accurate signal to the speedometer, as it is a DC motor that spins at the right speed, and has an encoder to feedback RPM to the arduino. But the motor would be too weak to turn the speedo cable. I think it would work best mounted directly to the back of the speedo. I'm going to order a speedo and work on fitting this up... If it works, it will be a very cool option.

superman22x




Posts

: 266


Join date

: 2015-01-29



I ended up getting late spindles and got a good price on a set of adjustable konis, so I am going to get a set of camber plates and use them. Camber plates are relatively cheap on ebay, like $75. I can still send the updated drawing to my machinist for the early struts if we get the dimensions figured out.

superman22x




Posts

: 266


Join date

: 2015-01-29



My machinist got back to me last week, asking when I could drop off the struts I have, so he could cut them. He hasn't responded from my given times, but he usually is mosts responsive on Fridays. I purchased a new house, and close in July, so I need the car rolling by then. He is making me sweat with the slow response time...

I actually just purchased my camber plates from ground control, since everyone seems to like them the best. I could probably get by without this added work, but I would rather do it right. You are right that eBay has a good selection of cheaper camber plates. I recall the reviews being fairly decent too, and a lot of people just switch out one of the bearings to make them just as comparable to the more expensive ones.

Still haven't worked out the dimensions, but I should have some time this weekend to check them out. My guy didn't say anything, but if I ever get pricing, I will relay that on here too in case others want it done.



944_GASM




Posts

: 68


Join date

: 2015-07-23


Age

: 30


Location

: Buffalo, NY



Well I am dropping my struts off at the shop after work today.

After reading the thread again, does anyone know what was going on with "I have some extra early (screw cap) strut tubes, that I'm going to bolt on some 87' Late spindles, then into my early offset 85/2 control arms.

My only concern (Your adapter is pretty straight forward.... simple means its a good design Smile ) is my camber. I want to keep the stock ride height, and stock/street camber settings. The bilstien inserts will only work with the screw top strut tubes, so I have to keep the early offset thing going. I just want the stronger 87 spindles."

XSHOP's Response: "Simply put, the entire X dimension 1.02 needs to be raised 1/4" and the lower bolt hole drilled 1/4" higher."

I was under the impression that the adapter plate would make everything okay camber wise... Is there changes we are suppose to be making?

944_GASM




Posts

: 68


Join date

: 2015-07-23


Age

: 30


Location

: Buffalo, NY



Picking my brackets up today. My guy was able to cut the old struts, machine this piece, and weld it to the original strut for $150. I will let you know how everything fits once I get it on the car so you guys can use him if you want.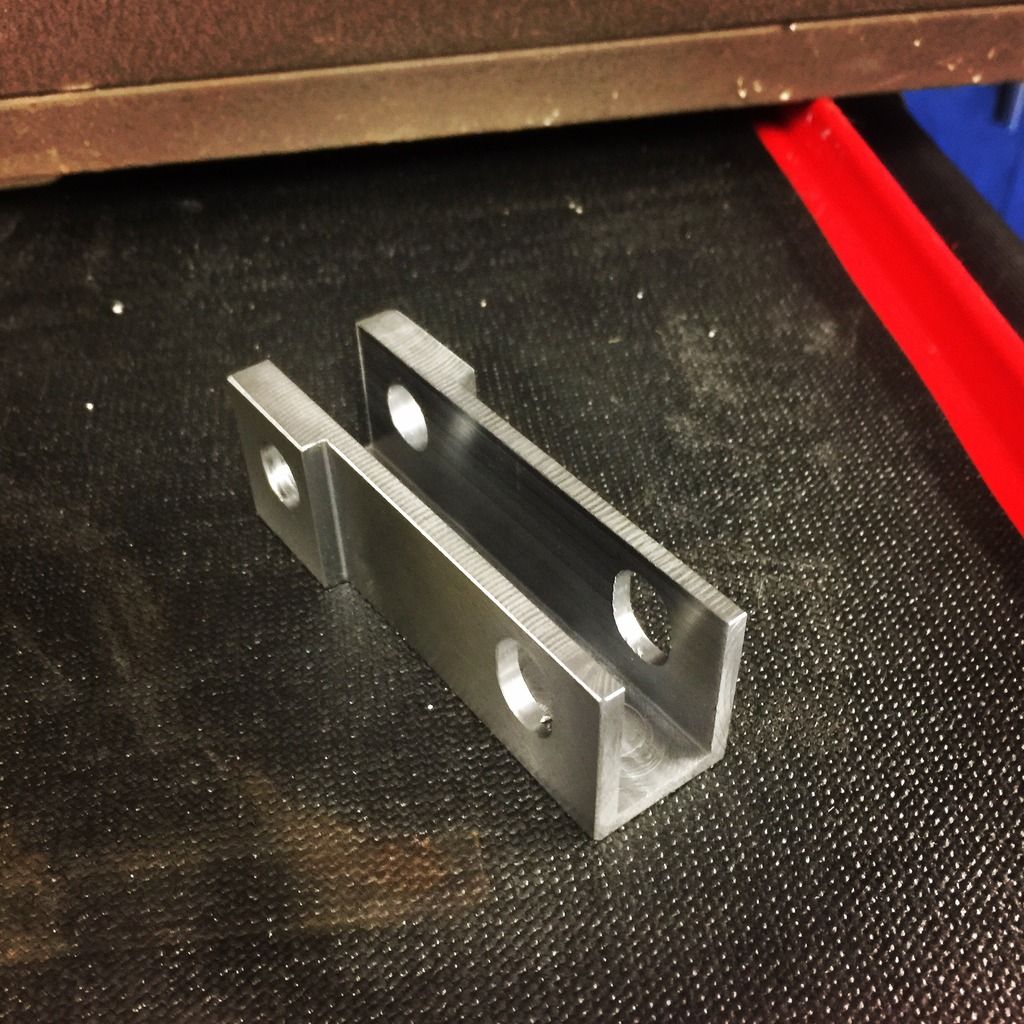 944_GASM




Posts

: 68


Join date

: 2015-07-23


Age

: 30


Location

: Buffalo, NY



Are these ones the right dimensions to use them with late spindles on early offset arms? Did he give a price for just the parts? I can handle cutting and welding and would prefer not to ship the housings just for that.

haroldk




Posts

: 139


Join date

: 2011-04-21



If anyone is interested, I just pulled a set of early "sport" struts off my car. Shipping probably wouldn't be too cheap...

superman22x




Posts

: 266


Join date

: 2015-01-29



Great info here

The Count




Posts

: 5


Join date

: 2015-03-23



Page 3 of 3 •
1, 2, 3
Similar topics
---
Permissions in this forum:
You
cannot
reply to topics in this forum