HOW TO DO AN ADVANCED SEARCH.
Mon Jul 08, 2013 3:56 pm by Admin
For the benefit of 944Hybrids users there are two search functions available for you to use.
The purpose of this sticky is to explain the "Advanced Search" function because it is much more powerful and is the best choice when researching information.
When you log on to the site a list of options is shown in a line at the top of the page. One option is labelled "Search", use this option (NOT the search box lower down on the right).
After you click on the upper search option, a drop down box appears. At the bottom of this box is a radio button marked "Advanced …
Comments: 0
October 2020
| Mon | Tue | Wed | Thu | Fri | Sat | Sun |
| --- | --- | --- | --- | --- | --- | --- |
| | | | 1 | 2 | 3 | 4 |
| 5 | 6 | 7 | 8 | 9 | 10 | 11 |
| 12 | 13 | 14 | 15 | 16 | 17 | 18 |
| 19 | 20 | 21 | 22 | 23 | 24 | 25 |
| 26 | 27 | 28 | 29 | 30 | 31 | |
Calendar
Page 7 of 7 •
1, 2, 3, 4, 5, 6, 7

zeusrotty




Posts

: 438


Join date

: 2010-07-30



It's difficult to tell from the video, but is the binding due to something in the HB or could it be your input rod catching on something (did you remove enough material from the brace)?

Also, the nut end on the input rod closest to the HB looks like it will limit travel? Since I've not run mine yet, not sure how much travel you need, but it doesn't look like you have much.

Lemming




Posts

: 855


Join date

: 2011-05-30


Location

: B'ham



The brace for the pedal? It clears everything. It's hanging up in the sleeve of the unit. I'm just wondering if the lack of fluid and boost is causing it not to push back on its own.

zeusrotty




Posts

: 438


Join date

: 2010-07-30



I just tested mine and it snaps back quickly. That's with only the output spring, I don't have the brake pedal attached at the moment. No oil in system, no boost.

Lemming




Posts

: 855


Join date

: 2011-05-30


Location

: B'ham



Alright. I'll take it apart tomorrow in the daylight and see how it is if I do it by hand. It does push back but at certain amount of insert it catches. It actually seems a little better today. I may just be pushing it in to far.

zeusrotty




Posts

: 438


Join date

: 2010-07-30



Did you solve your problem?

Lemming




Posts

: 855


Join date

: 2011-05-30


Location

: B'ham



It seems to be better... May have just needed some sort of lubrication in there from fluid. Or I was pushing to far down...I just finished rebuilding the rear suspension, and I just got custom brake lines made for the rear, and I will be putting them on tonight. Hopefully start it and get it bled tomorrow. I will let you know the results. Hopefully no leaks, and I have good pressure!

zeusrotty




Posts

: 438


Join date

: 2010-07-30



You need to make sure that the rod is perfectly level going in and out of the booster. Looks like yours is a little down hill. You may need to re drill your pedal up just a bit. One hole diameter usually works. Also grind down the weld on the rod area, that part will need to go into the booster sleeve without binding. You should have nothing stopping the pedal from going all the way to the bottom of the stoke with or with out fluid/pressure. If it binds now it will only be worse once you try to power it up.
I agree. It looks like the bore and rod are different angles with respect to each other. Besides that, Im shocked by how the hell you got down there to take that video so quickly....I heard a grunt on the way out though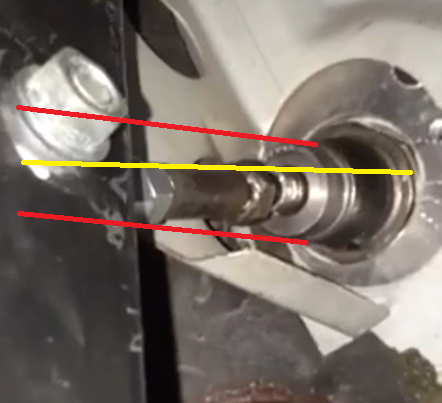 944-LT1

Moderator





Posts

: 1263


Join date

: 2009-06-09


Age

: 99


Location

: NOTRE DAME



Hey guy's I'm now using the Ford hydroboost obviously and the 944 master with the adapter. Do I need a new input shaft to go along with the adapter? I had this all up and running but after the shop took it apart to change the head I now have no pedal so I'm trying to figure out if I'm just missing a shaft. I honestly can't remember if there was one?

zeusrotty




Posts

: 438


Join date

: 2010-07-30



Page 7 of 7 •
1, 2, 3, 4, 5, 6, 7
---
Permissions in this forum:
You
cannot
reply to topics in this forum